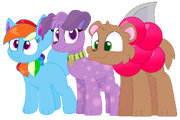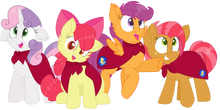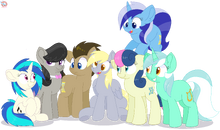 Here is the Rainbow Eevee Wiki where you get to read an introduction and a few facts on characters of Rainbow Eevee's interests including Chase from PAW Patrol, Calypso from Bluey, Twilight Sparkle from MLP FIM, Keia from Puppy Dog Pals, and many others. On this Wiki, you will find Rainbow's art from websites like Deviant art, Furaffinity, Derpibooru, and New Grounds. This Wiki also contains places and destonations (monstly restaurants), with a short paragraph about them and a few facts. Why? because rainbow eeve loves food and visiting places (traveling). You may have seen Rainbow Eevee on YouTube, where it all began.  Making random videos of Paw Patrol and animation with millions of views and 60,000+ subs.
Go ahead and explore the wiki!
Rainbow Eevee has been around since July 2015 when she first joined YouTube and posted a few videos that were later deleted. Rainbow is a talented (and creative) artist of anything. Those TV shows included PAW Patrol, Puppy Dog Pals, My Little Pony, and many others. Rainbow Eevee has a YouTube channel, Deviantart, Derpibooru, Furaffinity, Roblox, and Duolingo. Rainbow also has Memecenter and Geekcheeseburger, but is a noob at those sites.  The OCs (Original Characters) include Rainbow Eevee, Farine The Puppy, and Sharker Berry.  Rainbow Eevee is a cute Eevee.  She is a basically Rainbow Dash but Eevee version.  She has Rainbow Hair, sky blue fur coat, and pink eyes.  Her best friend is Farine the Puppy.  Farine The Puppy comes from France, with her name meaning "flour" in French.  She speaks fluent French and somewhat English.  She has a purple fur coat with light purple spots,  Magenta eyes, and wears a dark green striped collar with a golden tag. Sharker Berry is also her friend. Sharker Berry is a creature with a bear head, berries as a torso and his a shark fin.  His real name is Eli.  He is Rainbow's childhood friend back in school.  He thought he would never be friends with her.  

Everyone has their own art style. Rainbow Eevee's style gives tons of bright colours to her art and gives all the characters she draw look like MLP FIM art style. If she draws a cartoon character with no eye colour; she will give them her own eye colour. Please do not judge other people's art styles... thanks