to find this page in french, click on Ponyseb (français)!!!
Ponyseb belongs to Sébastien Lévesque or TheAutisticArts. He is a friendly pegasus who wear his snapback and his sweater that has the Sébastien Lévesque logo on it. He really loves his friends, Didgeree, Boomerang Beauty, Rainbow Eevee, RosePetalPony, Grith Courage, and others. He loves being a pet to Mr. S.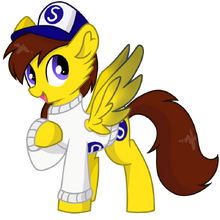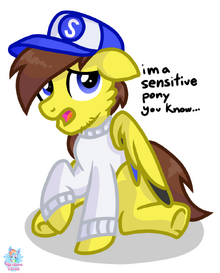 pegasus, pony
male
wears a sweater and a snapback
loves his friends
loves his owner Mr. S
has mild autism
hangs out with Didgeree alot
has a fat fetish
treats Rainbow Eevee like his sister
loves fat bellies
has sensitive feelings
stays positive
inspired
loves his fans
loves creativity
bisexual
hates any hater of his art on derpibooru
has facebook
loves facebook
all his friends (except Rainbow Eevee) can be found on Facebook
never afraid to show his colors
Community content is available under
CC-BY-SA
unless otherwise noted.